The database records all failures and significant adverse events in all components involved in the deposition and storage of mineral tailings, including post extraction downstream  generated tailings, e.g. at smelters or refineries. The original impetus for creation of the ICOLD/UNEP 2001 compilation, Bulletin 121, was an increasing frequency of high consequence tailings failure events post 1990. That the trend of high severity tailings failures has continued upward is indisputable. Without major changes to law & regulation and industry practices and without new technology that substantially reduces risk  and increases loss control, our current prediction is for 19 Very Serious Failures between 2018 and 2027.
We ask all users to read all guidance and commentary provided here before planning and publishing a work using this database.
Current as of August 1,2018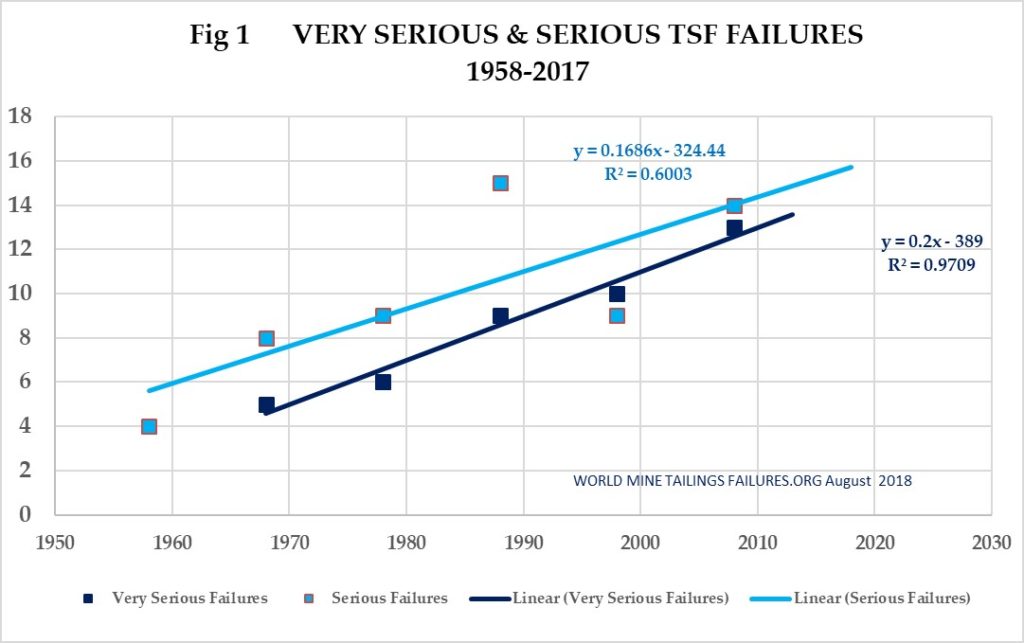 History & Purpose Of Failures Database
The purpose of the database is  to provide a meaningful resource of factual authoritative data for analysis of trends, causes and consequences with a view to the changes that will result in effective loss prevention  related to tailings management.  The aim is to give the narratives  of every significant failure voice, not replace or overshadow the narratives.
Of course it is important to note at the outset that while tailings failures are a leading cause of the most consequential mine failures to communities of origin, the environment and to the investors whose trust  finances production of the minerals the world needs, large and significant losses occurr even at facilities with no on site tailings or with state of the art and adequate tailings tailings management.  This data base is important because it is a surrogate for all loss.  It is the only known publicly available compilation of loss, the only window we have into the legal frameworks, corporate practices that create high risk and high loss conditions.
The core of the database is the ICOLD/UNEP  compilation by an international expert panel convened between 1995 and 2001 published in 2006.  WISE continued  the global compilation integrating all the Bulletin 121 failures and posting all new failures reported to them. The WISE chronology dropped most of the Bulletin 121 data descriptors and now only reports "significant" events since 1960.
World Mine Tailings Failures (WMTF)  expanded the original Bulletin 121 compilation with independently researched authoritatively  compiled  failures from 1915 onward and integrated all WISE updates & additions through 2015 reformatting to the full Bulletin 121 layout. Missing descriptors in the WISE and ICOLD/UNEP compilations were filled in  element by element from many sources, principally legal documents and technical reports.
The statistical value of ICOLD/UNEP dam descriptive and cause data elements has not been fully established or explored but WMTF continues all of them.
The data are only meaningful at aggregations of 10 years.  No other aggregation level holds up for any kind of meaningful analysis or presentation. Presentation of the number of "failures" for a given year is meaningless. No comparisons by country or company or resource sector are meaningful without production data ( failures er tonne or ore processed or failures er tonne or finished product) for a period of 10 years or more.
Three main expansions gave the failure narratives  voice in terms of both cause and consequence: severity coding , magnitude index development, and the inclusion of economic history.
SEVERITY CODING
The ICOLD UNEP expert panel intended to distinguish failure events by severity but the established coding did not lend itself to  statistical analysis. They distinguished "failures" from lower consequence "accidents" but this two layer severity class had no structure that supported meaningful analysis, especially trend and correlation analysis. Within the designation "failures" ICOLD/UNEP intended, and which we have continued, all  failures of any component of a tailings management system are recorded.
The Bulletin 121 international panel established  three measures of severity release,run out and deaths, which also frustrated statistical analysis.
A four level severity code system has therefore been created for WMTF from 1 ("very serious") to 4 ("potential failure", an observed condition which if left unattended could evolve to failure over time).  The 4 tier system relies primarily, but not exclusively, on the three severity variables created by ICOLD/UNEP (release runout and deaths) but it also places great reliance on authoritative narrative. At present only two of the classes,very serious and serious, perform well in statistical analysis and it seems clear in correlation and other analysis that the trends for both severity levels are shaped by a set of common root causes in mine specific and global economics.
Figure 1 above shows present linear trend lines and Figure 2 the actual values for release runout and deaths by decade through 12/31/2017.

MAGNITUDE INDEX
The severity coding alone allows examination of only the frequency of high severity incidents over time but not the degree of severity. Although, as shown in Figure 2, the decade summaries of release, runout and deaths give an impression of increasing severity, it was not possible to do any meaningful statistical analysis with the data in  this form.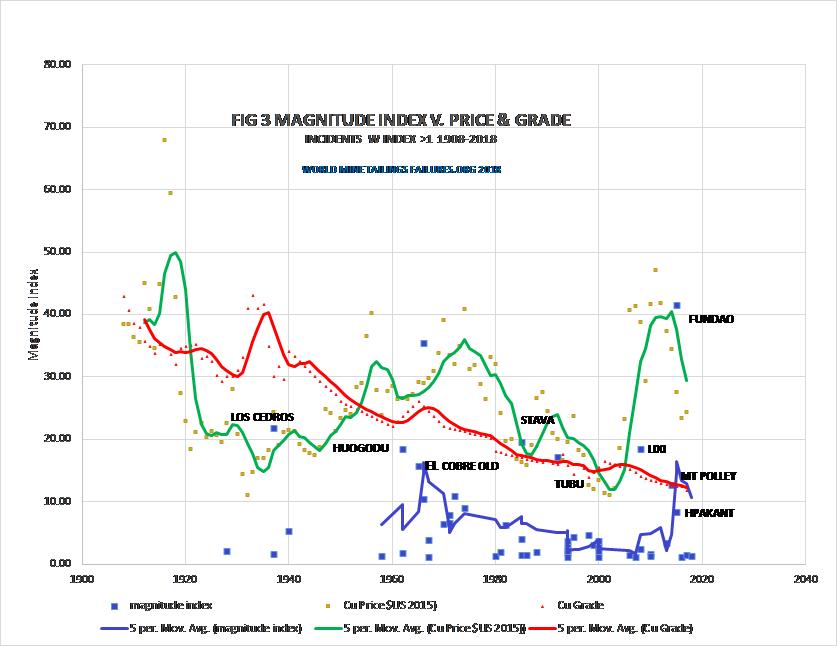 An index is an econometric tool especially used in trend analysis which allows disparate data elements to be unified via reference to a base year or period and then combined by aggregation with or without weighting as evaluated by the index developer.  This approach was used to build the magnitude index setting 1991 to 2000, the "red flag" decade of Bulletin 121, as the reference period.  For each incident , each element ( release, run out,deaths) was expressed as a ratio to the reference average then all three index scores were combined to a single numeric index.  It was determined that raw scores gave each element an equal weight ( i.e. no weights were needed).  Complete technical documentation is available to anyone interested from compiler@worldminetailingsfailures.org.
The index proved a very valuable statistical tool with strong correlations to price and grade as shown in Figure 4 above.  The relationships over time clearly show that magnitude increased as grades fell and prices rose dispelling a popularly cited paper asserting without econometric analysis that failures occur in lagged response to falling prices.
The magnitude index also , as expected correlated significantly with storage capacity and dam height at failure. ( Larger facilities are of course expected  to cause more damage when they fail which is not the same as larger facilities having  an inherently greater propensity to failure.  Data is not presently available to evaluate that)
We invite, and hope ourselves to do, much further exploration of the magnitude index.  At this point we are satisfied that it is a vetted and valid data element with an important place in the data base and in future research of cause and consequence.
We assign severity code on narrative and what is authoritatively documented as release, run out and deaths, however we not do not code magnitude if there is not sufficient  complete information on release run out or deaths as it relies exclusively on the given numeric values of these elements.
ECONOMIC HISTORY
The ICOLD UNEP expert panel acknowledged the powerful and important role mine specific and global economics played in the failure trend they were pointing to.  Most papers on cause, while tending to focus  on  engineering  causes,  recognize the adverse effect of falling grades, the resulting increase in mining costs  per tonne and the attending squeeze on margins.
The predecessor  of this database was a data set developed for three research  papers exploring  these effects of mine and global economics in depth  on the frequency and severity of catastrophic failures.
Bowker Chambers (2015) Bowker, L.N.; Chambers, D.M. The Risk, Public Liability, and Economics of Tailings Storage Facility Failures. Earthworks Action 2015
This mapped the world trend of  frequency of very serious failures against the world trend in falling grades establishing through Canonical Correlation Analysis the likely existence of a strong linear relationship in data known as of 12/31/2009
Bowker Chambers (2016) Bowker, L.N.; Chambers, D.M. Root Causes of Tailings Management Failures: The Severity of Consequence of Failures Attributed to Overtopping 1915–2015.
This used the same data set as Bowker Chambers 2015 and examined the distribution of "very serious failures" across all thee ICOLD/UNEP expert panel established cause of  failure elements finding that except for codes associated with static liquefaction ( earthquake and SI) the distribution of high severity failures was essentially the same  suggesting a common root case, previosuly posited as global and mine specific economics.
Bowker Chambers (2017) Bowker, L.N.; Chambers, D.M., In The Dark Shadow of Thee Supercycle Tailings Failure Risk & Public Liability Reach All Time Highs, Environments 2017, 4(4), 75; doi:10.3390/environments4040075
Bowker Chambers 2017 used a greatly expanded data set of pre-2010 failures and included all known failures through 12/31/2015 and the addition of  economic history of the mines at which failures occurred.  This data was contributed by Dr. William Williams, a noted long experienced economic geologist from his own files. Dark Shadows ( Bowker Chambers 2017) was therefore able to reconfirm key findings of Bowker Chambers 2015 and Bowker Chambers 2016 with a more complete data set for a longer period  as well as to examine the role of mine specific economics.  Dark Shadows showed that contrary to previously asserted and widely cited work high consequence failures are more frequent in periods of rapid sustained price rise due to the greater participation of marginal mines as producers.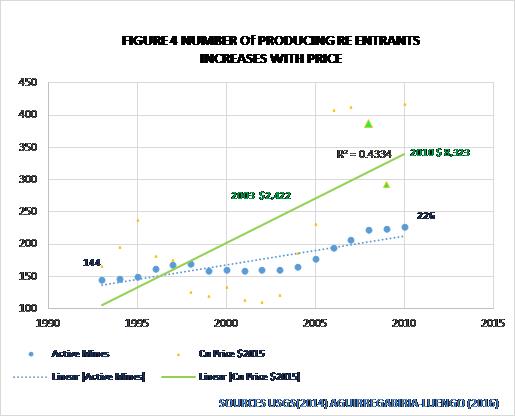 The strong linear relationship between grade and frequency of high severity failures was also revealed in linear regression (Fig 5)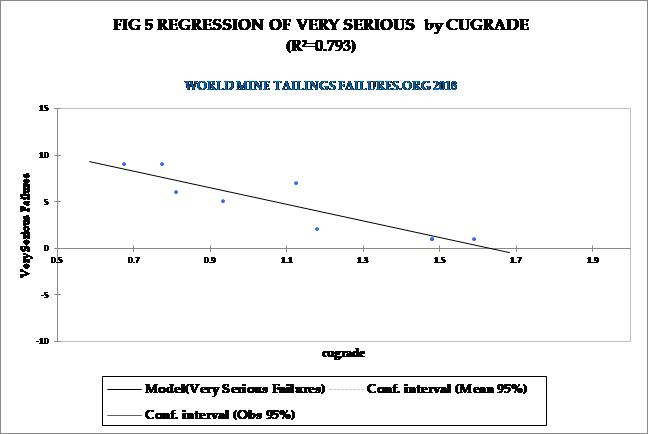 While still very sparse  the  data presently available does support meaningful but  limited inquiry and analysis.  One of our development goals is to expand data to include at least more details on already known  serious and very serious failures.
To explore failures in the context of global mineral economics trends, a parallel mineral economics data bate was created  and is also available free in excel file format.  The parallel data base provides annual data on copper grade, world mine production, price and estimate world ore production from 1915.  Extensive technical documentation is embedded in the download file at this site..
Download To Economic Data Base To Be Added
DATABASE MANAGEMENT
To date the three main contributors to the database have been chief compiler Lindsay Newland Bowker, Bowker Associates Science & Research In the Public Interest; Dr. David M. Chambers, President, Center for Science In Public Participation; Dr. Bill Williams, economic geologist  who contributed the economics section and Dr. Robert Pacheco  from his own files and research on causes of static liquefaction.  Many others over the four years this compilation has evolved have contributed both additional information on failures already in the database and alerts on additional failures. We welcome and encourage all contributions with proper citations and documentation, especially individuals  with technical expertise who speak Chinese, Portuguese, Spanish, Swedish, Norwegian and other foreign languages and are on the ground in countries whet mine production is occurring.  We do foreign languages searches for tailings failures and mine failures  but without multi lingual input from associates  we are not capturing all relevant information .  We provide principal sources for every entry.
Our aim is to provide more complete data on each failure with a bearing on cause and consequence not to provide a 100% complete list of all failures that ever occurred.
Dr. Pacheco has volunteered to serve as  associate compiler focusing on engineering & technical descriptors and sources.
We are seeking volunteer associate compilers for government law and policy, community of origin consequence, and environmental consequence and  mine specific economics.
We have invited a very distinguished panel of experts in different stakeholder sectors to serve on our Board of Directors and the compilers will actively seek and welcome their guidance on future development  of WMTF.
Next Steps
Incorporating As a Non Profit
Free public access databases are usually compiled and maintained by governmental organizations who determine content and access.  What was a data set and is now a database used by researchers, NGO's, government agencies , mining consultants, investment portfolio managers and advisers and even grass roots organizations has no natural governmental umbrella among any existing  global organizations.  It is too important to rely on what time can be given it outside of other mainstream work as has been the case to date. Incorporation as a non profit will allow a suitable structure  for expanding and formalizing a broader stewardship for the database as well as providing a structure through which others can  help finance its basic needs and future development.
REBUILDING THE NARRATIVE
The data is only meaningful to the extent that it accurately summarizes or presents key elements in narrative and captures/presents those data elements most closely associated with cause & consequence and with mitigation of harm.  The story of every failure is the complete narrative which changes over time bringing new insights, new facts, new data.A principal goal is to rebuild narrative for all consequential failures  expanding from engineering analysis only to the role ( positive or negative) of law and policy, mine/global economics as well as a fuller description of consequence both human/community of origin  and environmental.
Each of the original Bulletin 121 failures had a small narrative. To date, except for brief narratives presented in the appendix of Bowker Chambers 2015, the narrative in the failures database has been represented only in the bibliography of resources used to develop the data record for every failure.
Our aim here at WMTF is to create a complete narrative from the bibliography presentedfailure by failure.
We will publish the narratives one by one as they become available in a to be added section on narratives.
Additional Data Elements
The volunteer compilers will propose to the Board its recommendations for data element expansions and develope a budget estimate  & project description for each proposed addition.  We anticipate only very limited funding support.
The data elements created by the UNEP/ICOLD expert panel have not been fully explored as to their value in analyzing cause and trends.  It is clear that some elements, especially "runout" are not sufficiently clear as indicators of severity.
It is clear though that the data descriptors are somewhat out of date  especially on the TSF facility itself and the characteristics of the tailings and their degree of consolidation and saturation at failure.  It would be helpful to have a clearer better coded picture on the condition of tailings at deposition and the means of deposition.
Our aim will be to prioritize the addition of new data elements according to deliberative and analytic value. seeking guidance and help from all stakeholder sectors and from our eminent Board of Directors.
ESTABLISH LINKAGES WITH OTHER GLOBAL DATABASES
There are no other failure specific publicly available global databases however there are many other global databases that can link to characteristics of national or provincial governance such as indexes on public benefits of the minerals sector by nation and indexes on the responsible mining policies of individual mining companies. Re coding and additional coding of the deposit, the parent company and country can facilitate these linkages by other researchers even if the external databases do not contain elements which themselves belong in the failures database. One possible near term objective, for example, might be  to add latitude and longitude and the USGS unique deposit ID.
MANY THANKS & FUTURE FINANCIAL NEEDS
We thank Dr. David M. Chambers for sharing part of a generous unsolicited grant from a small foundation given specifically in support of the work Dr. Chambers and Lindsay Newland Bowker have done together on the failures databse.  Dr. Chamber's donation from this grant created this website and funded its basic web hosting & incorporation costs for the first three years.
The data base is not yet formally a non profit entity or otherwise legally constituted as a corporate entity.  The applications and filings to accomplish this are underway. We will shortly add a description of  several small projects where funding would help with important expansions.  The database needs and welcomes this financial support.
The chief compiler and associate compilers receive no salaries or other form of remuneration.  Through funding though we hope to be able to retain research assistants to assist in the main research & coding work  of each development goal.    Also we need annual funding for the statistical analysis packages we use for analysis  and presentation of the database.  Our plan is to create a page on  WMTF compiler recommended, Board approved development goals with a description and budget for each so that donors can match their gifts of support with their own main interests, work and commitments.